Audio & Video, Home Theater, Whole House Audio, Networking, CCTV Surveillance, Pre-wire, Retrofit, HDTV Installation & Repair
Residential & Light Commercial
Sandpoint, ID (80 Mile + Radius), Coeur d'Alene, Bonners, Priest River, Post Falls, W. Montana, (Yaak, Heron)
No job is too Big or Small!
Affordable! USN Vietnam Veteran 'Owned & Operated'
I have a Passion for Quality Audio, Video, Home Theater, Whole House Audio/Video Distribution, and ease of operation (as well as seeing a smile on my client's faces!)
However, I multi task and install wired and wireless Networked Systems, CCTV Surveillance Systems, Samsung, Panasonic, Sanyo, Sony, Hisense, Mitsubishi, LG & Toshiba Flat Panel HDTV repair and upgrades, Blu-Ray wireless applications, universal remote control programming, power protection, etc. Basically, any low voltage applications and associated upgrades.'
2022
My Bayview client liked the new 77" OLED in Living Room so much, he replaced the 55" Master Bedroom TV with a LG OLED 83" C2 EVO with a Kanto Articulating Mount.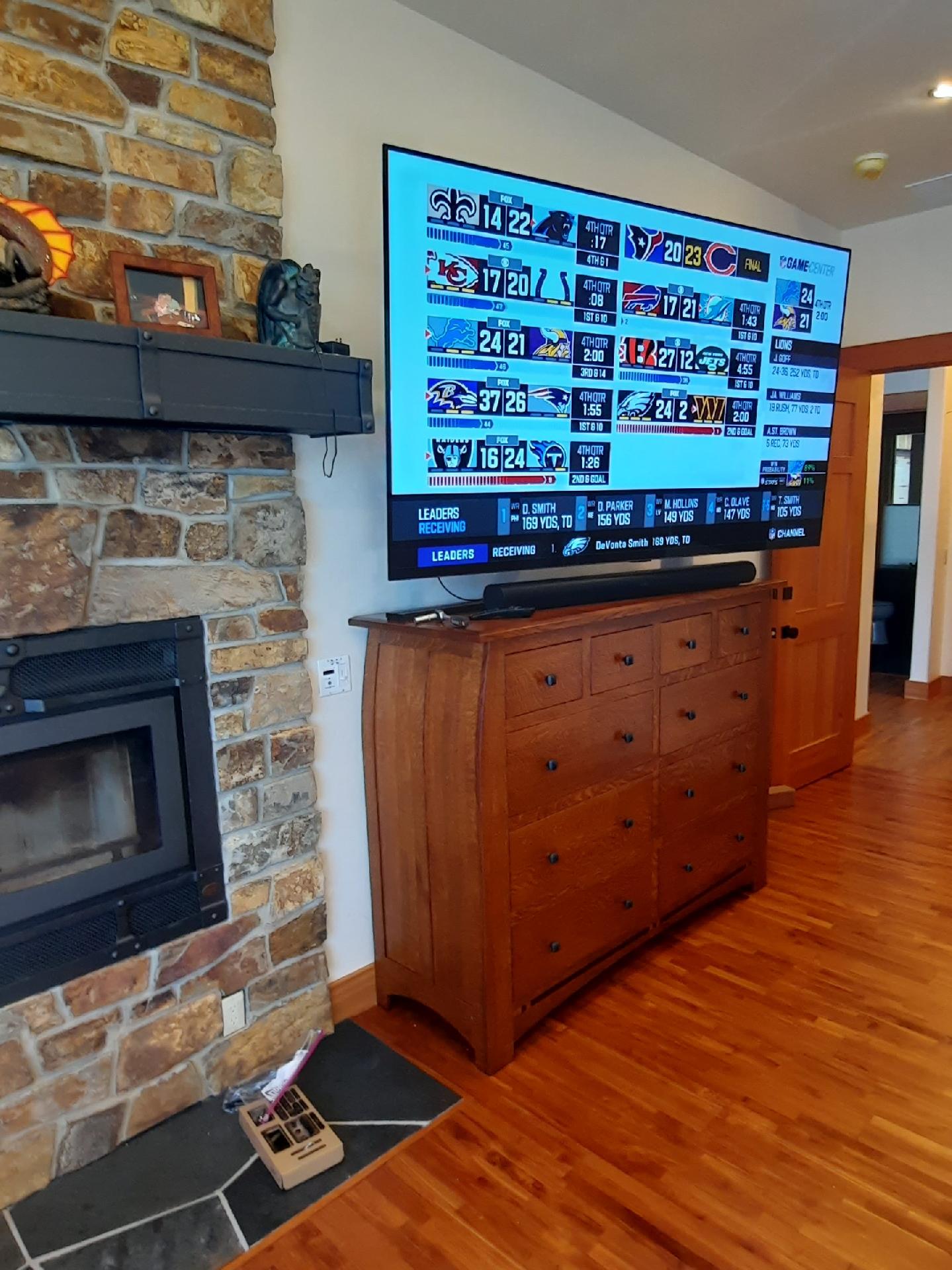 LG OLED83G2 (1 1/8" deep) with Sonos ARC, SUB & ONE Surrounds. 83" Diagonal OLED 4K HDTV with 5.1 system with Dolby Atmos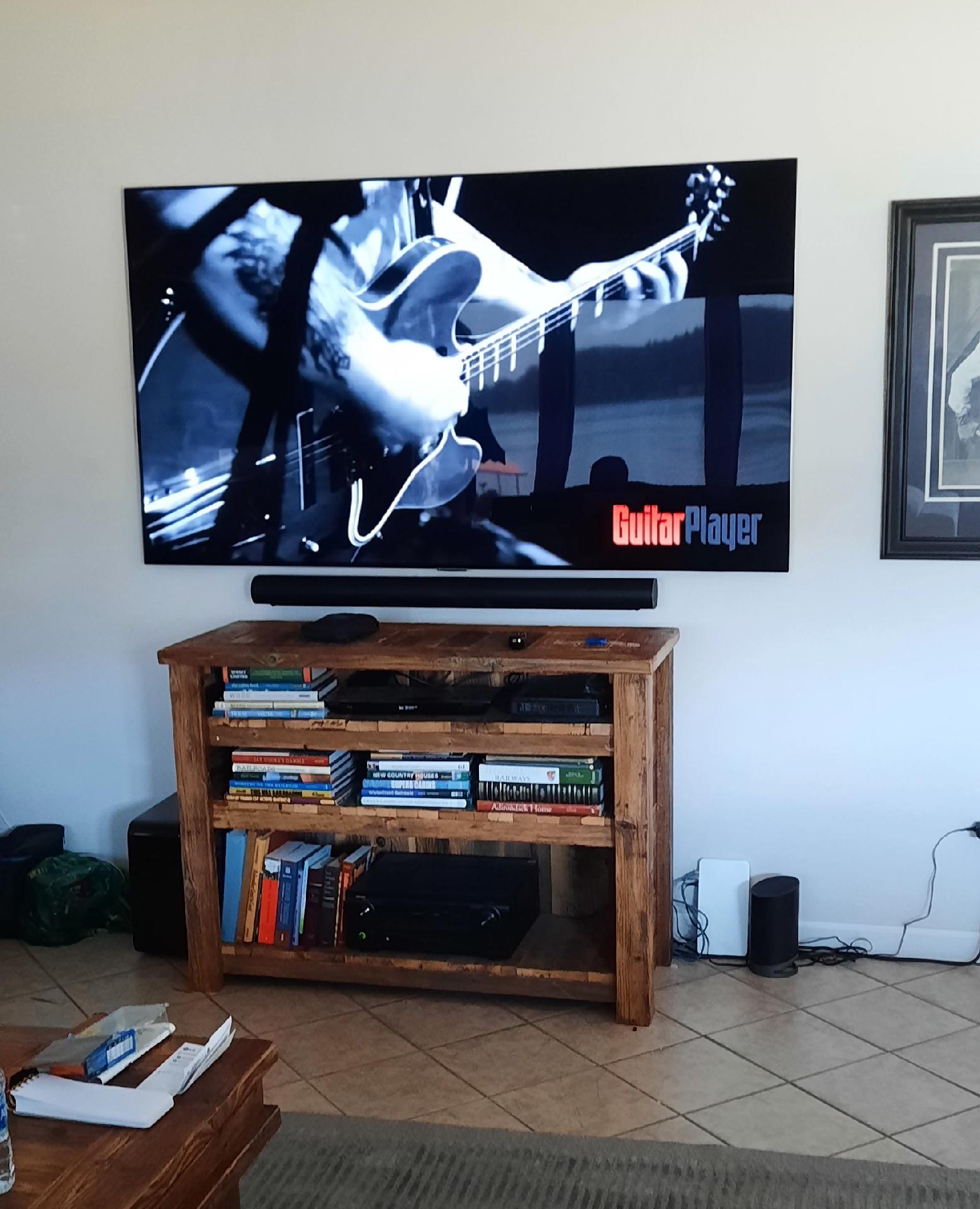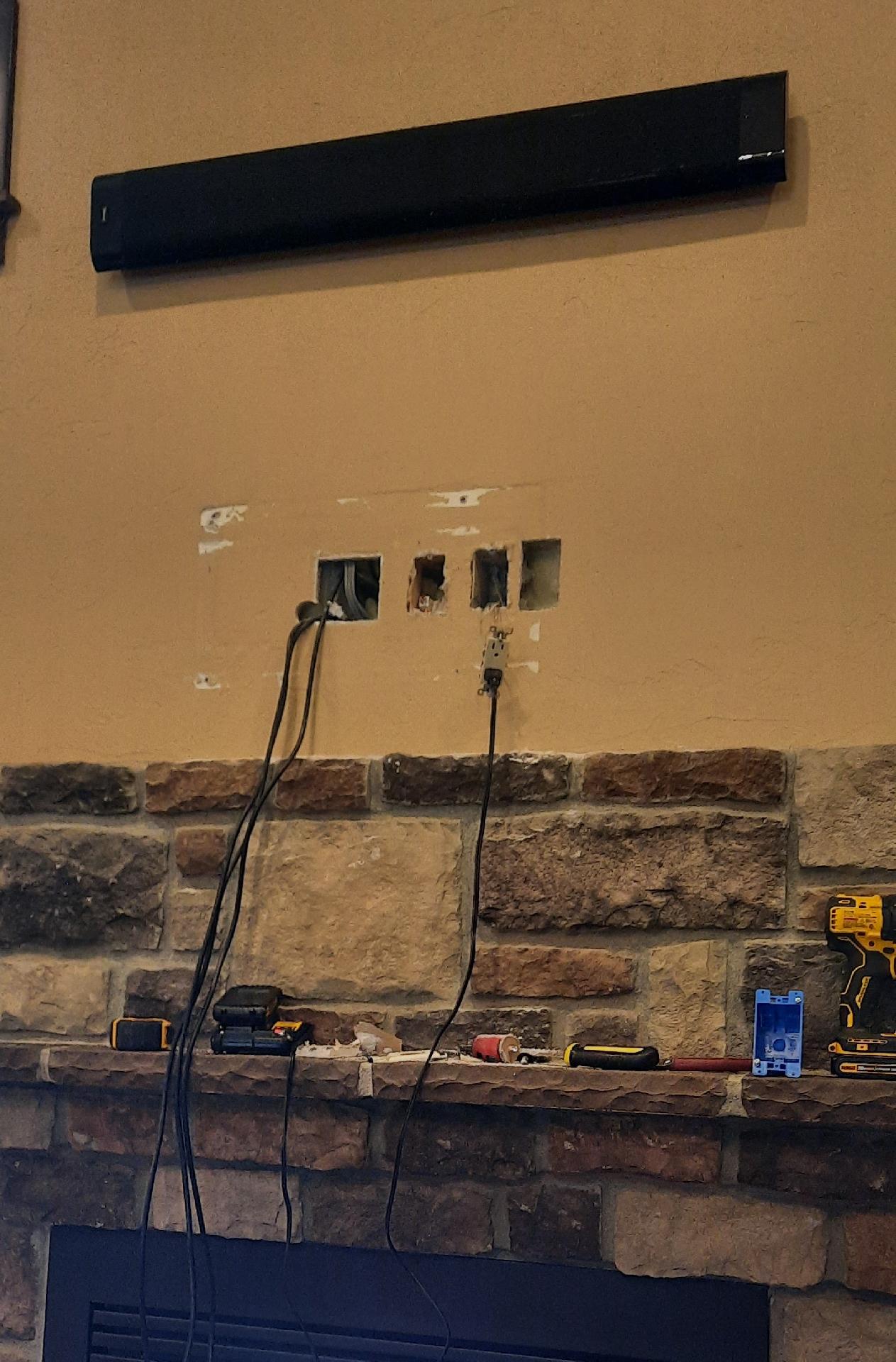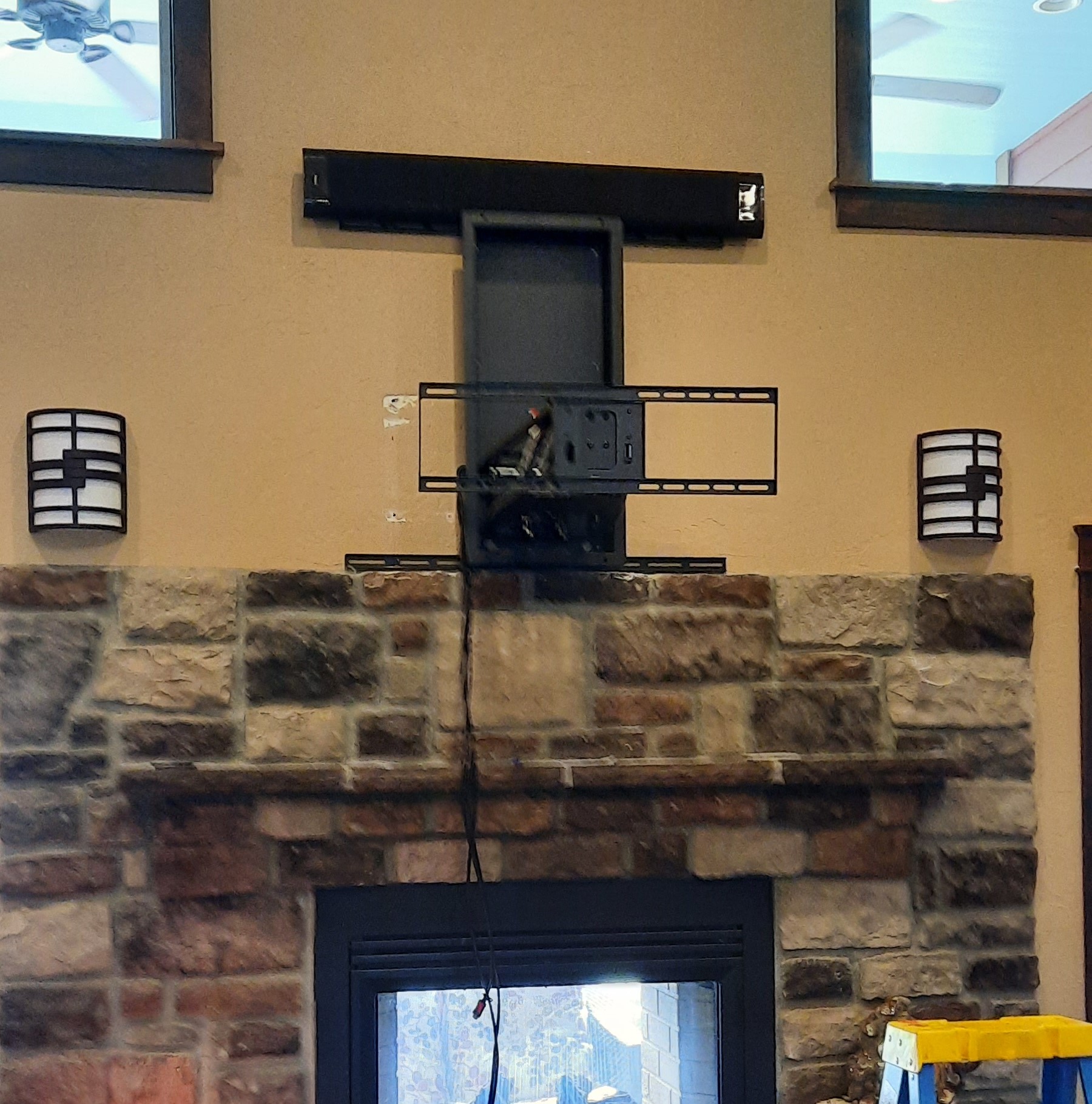 Dual Piston Mantel Mount with 75" Sony LED, Klipsch Soundbar Overhead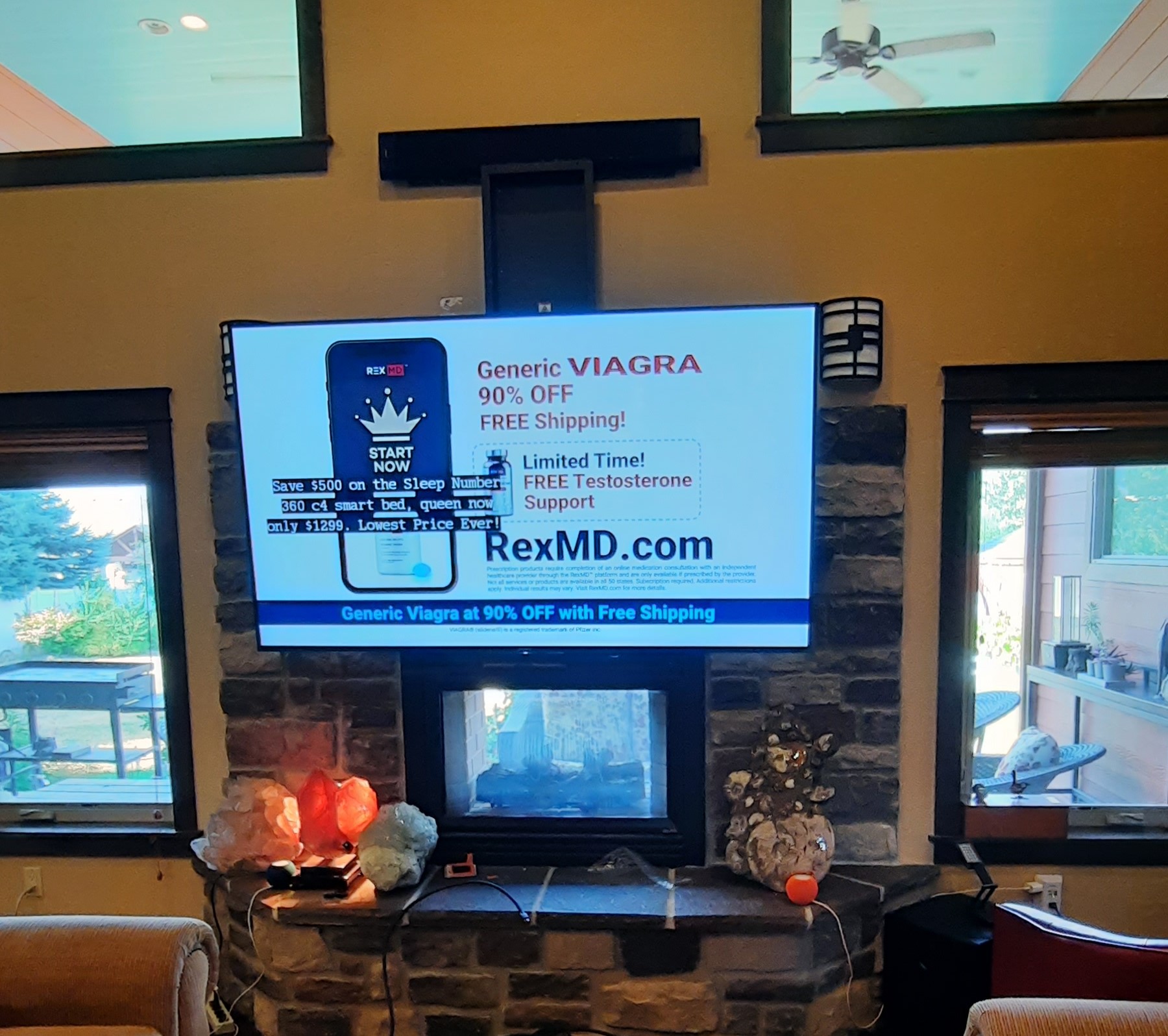 LG OLED77G2 4K HDTV (1.1/8" deep) replaced the above 75" Sony in dedicated Marantz/Klipsch Theater Room.
Sonos AMP 8 Zone with PORT & Custom Rack. 2 + months on Sonos AMP waiting list due to chip shortage. Client is happy!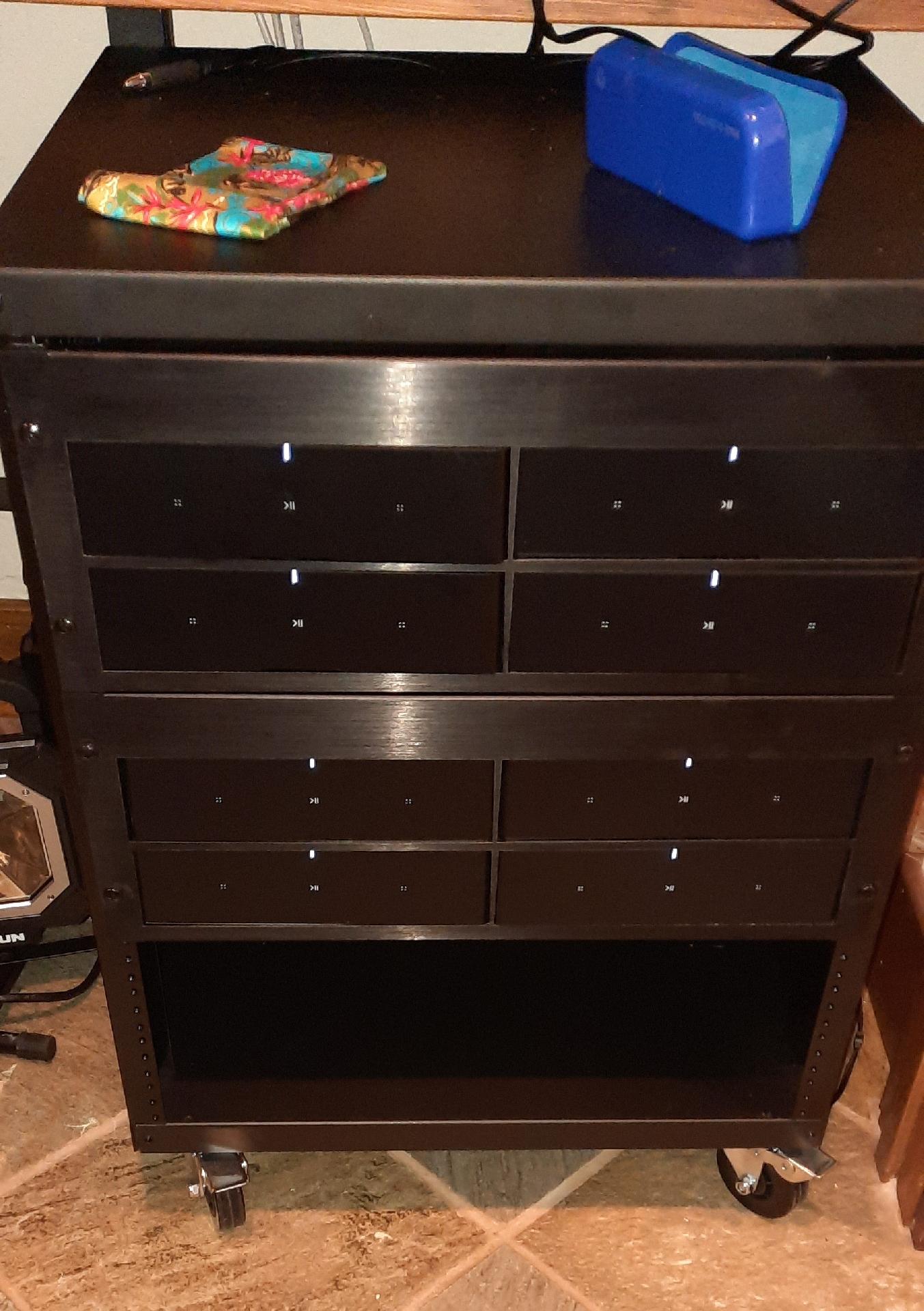 Recommended to client to downsize Kliplsch Center Channel below,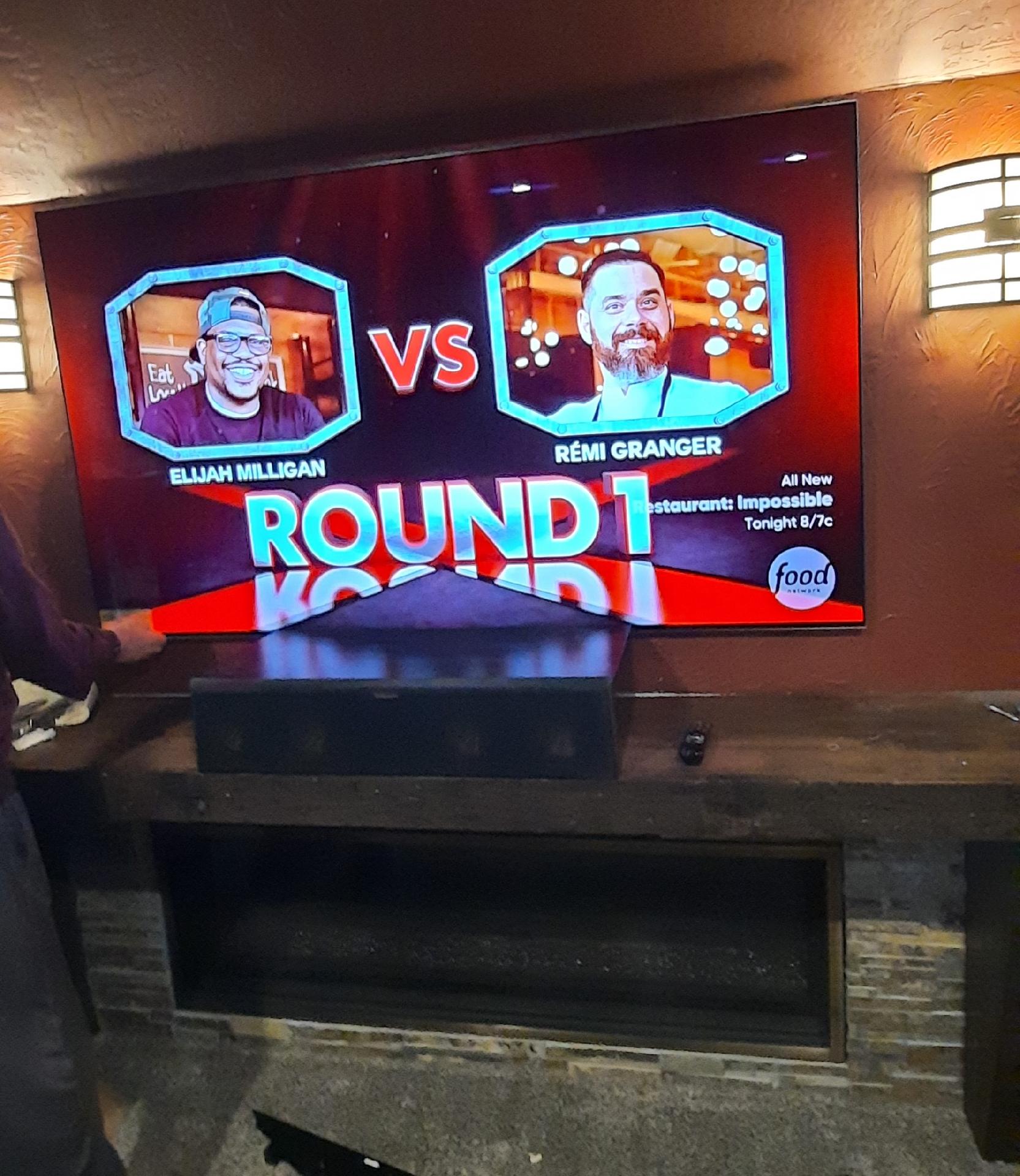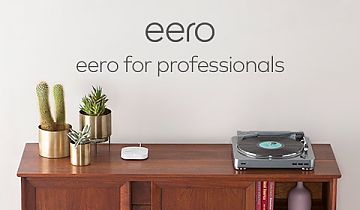 2021 Custom Home in Sandpoint 6500 sq ft, 2 BR, 9 TV Installation, custom audio, networking & Surveillance. Below is a Samsung 75" 'THE FRAME' TV on custom stone fireplace.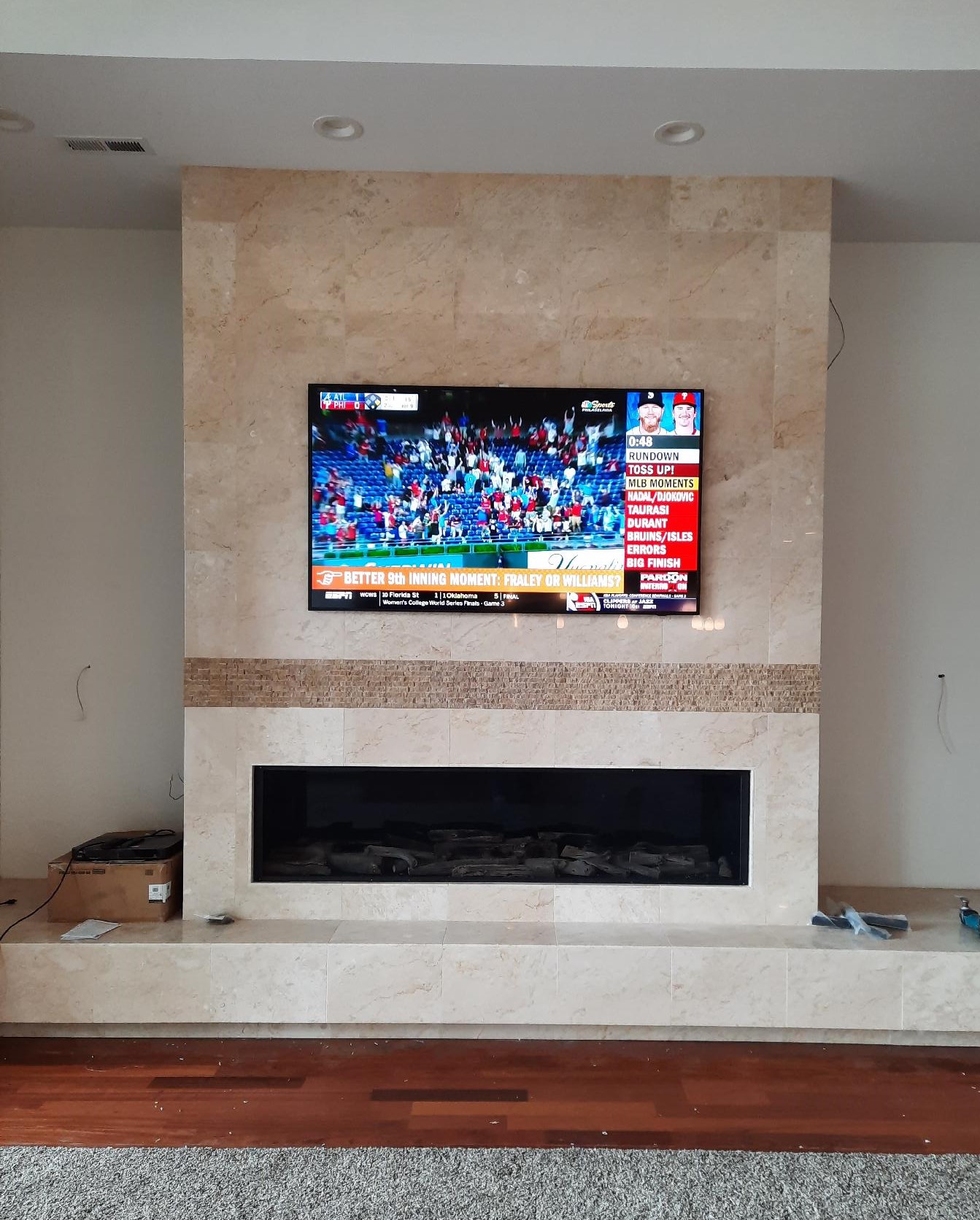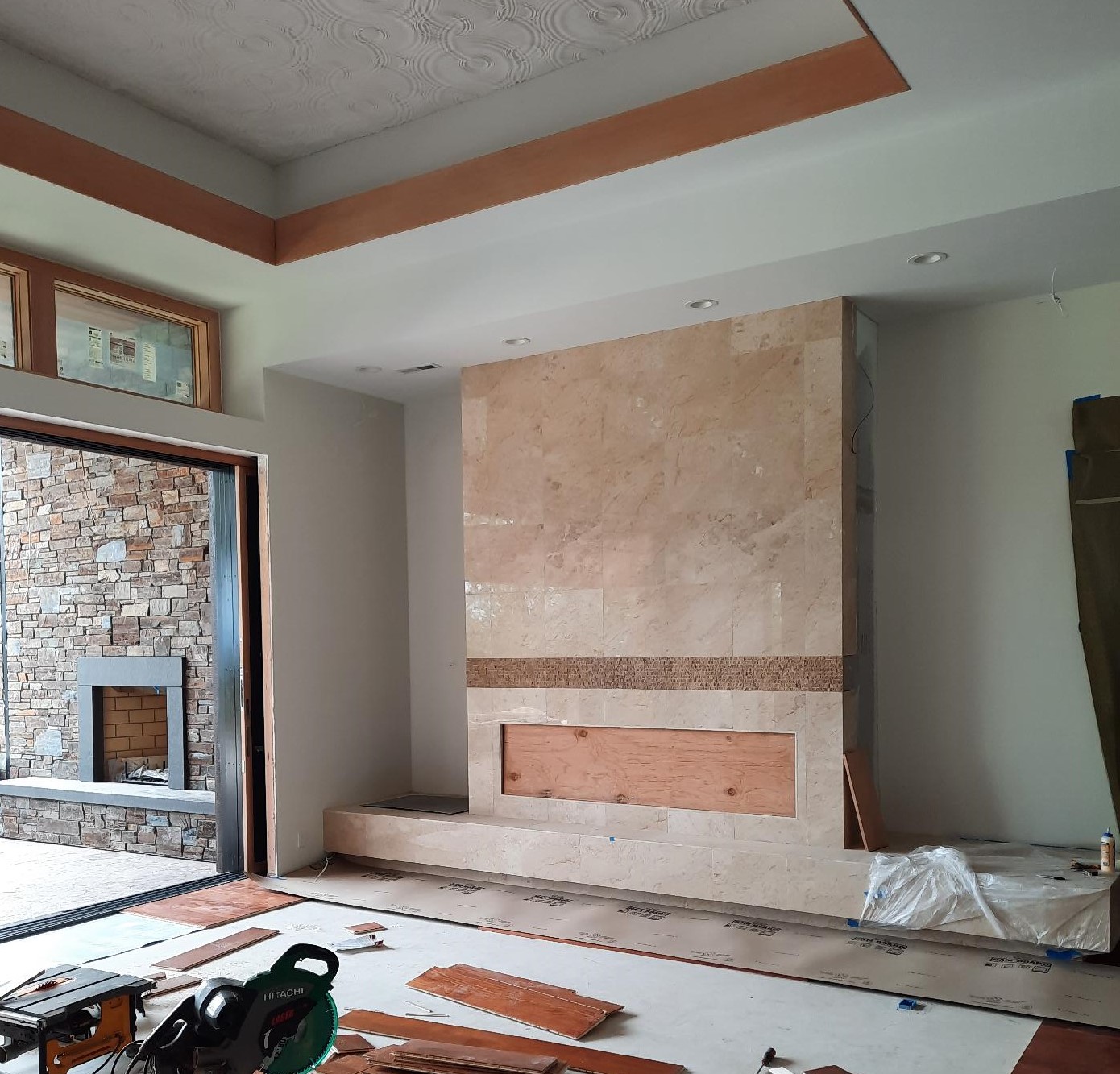 Bayview, ID (Southern tip of Lake Pend Oreille) favorite project of 2020, just wrapping up Audio, Video, Networking Surveillance: 5 Zones Audio, Living Room features Triad Speakers Gold Mini Monitors & 2 ea Bronze In-Wall Subs (placed in ceiling) powered by Parasound Hint 6 Integrated Amp & Triad Speakers Subwoofer Amp, Office Audio & 2 levels Outside decks features Russound MBX Streaming Audio apps, the Boat Dock features Sonance Mariner Single Stereo outdoor speaker and a networked Russound MBX-Amp with Eero Mesh Network. You can even work on tablet or laptop with network at the dock. Surveillance all around features the 20X PTZ at the top of the tower, Eero Pro Mesh Network x 4, TV's are Samsung Q70T & The FRAME series to be installed by late August. Did I mention Wilson Pro 1100 Cellular Booster at the residence in case you want to be bothered with a phone call?
Just upgraded a 65" with a OLED77C2 and Kanto Articluating Wall Mount, looks awesome in that large room!
August 2022, decided to go larger with 77" OLED 77C2, Parasound Integrated Amp, Triad Speakers In-Ceiling Monitor's & Subs, Denon DP-450 Turntable & XBox.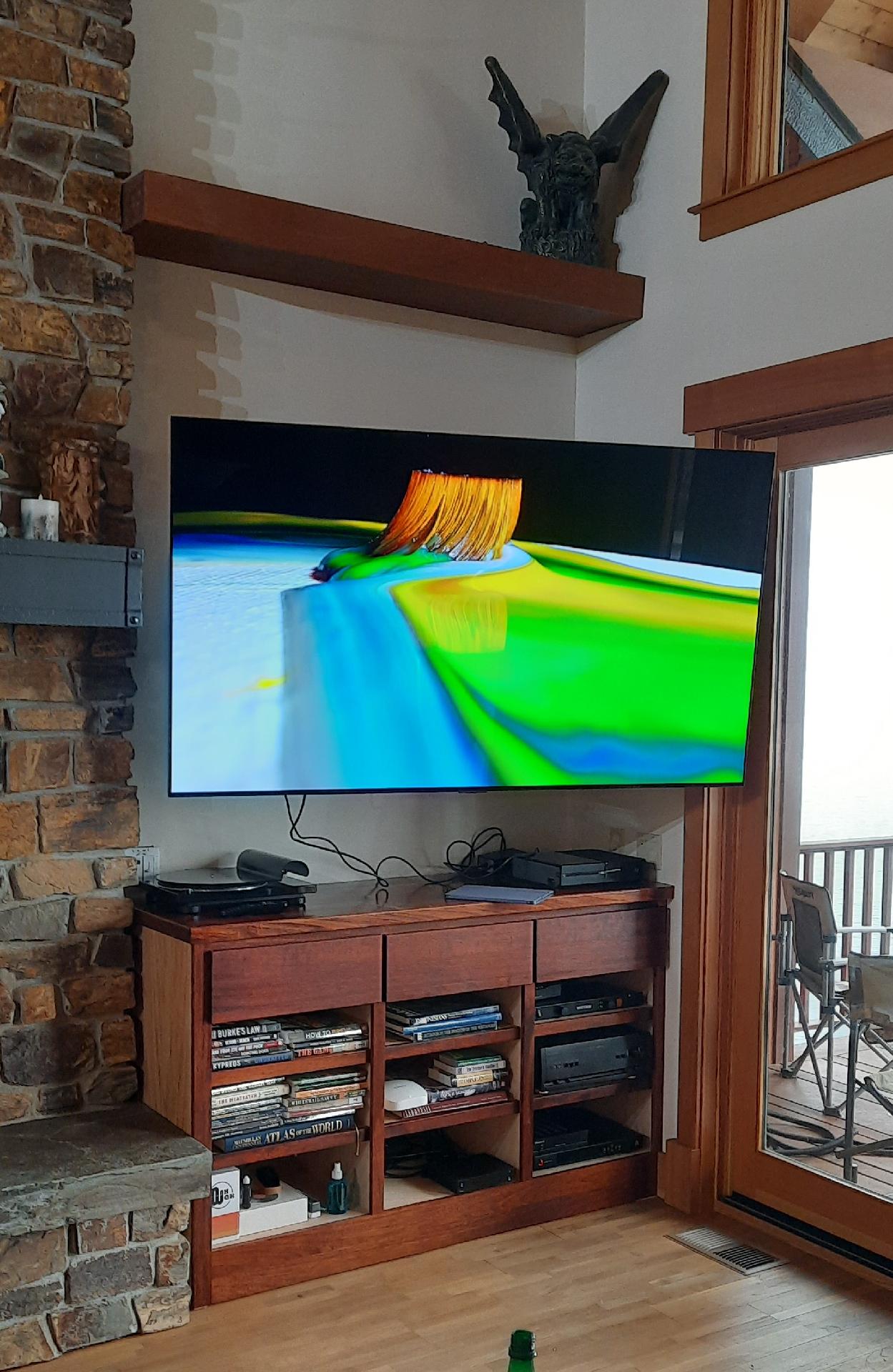 August 2020, 65" Q70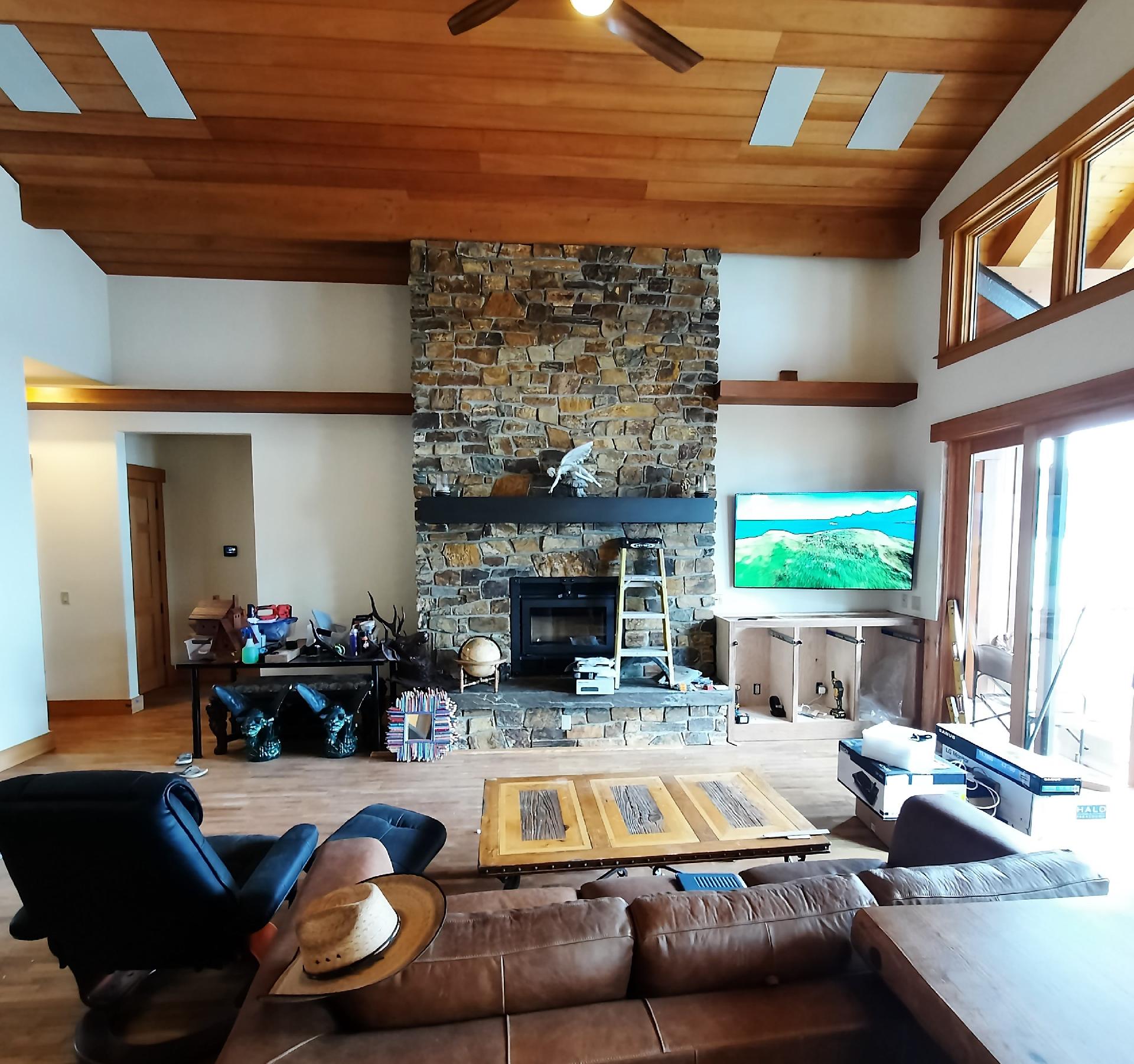 Stream audio via Russound MBX-AMP at the boat dock or work hard remotely on the water with laptop via EERO mesh network.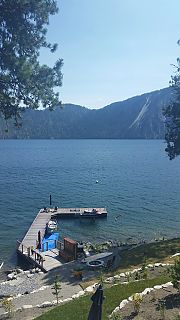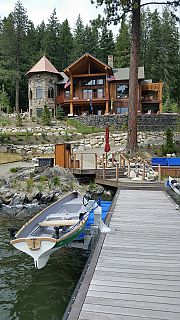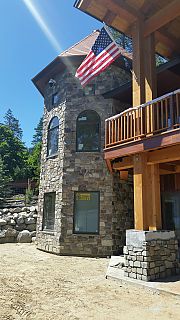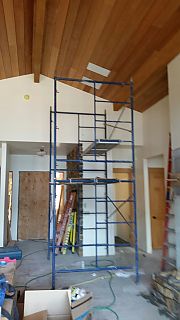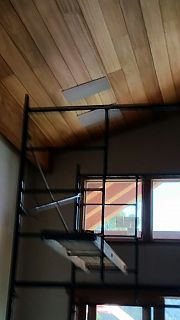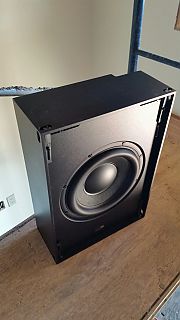 Black Rock Remodel - June 2020 Major remodel on cabin just down from Shooter's. Spectrum Network & Cable upgraded, Samsung Q7075" & Sonos ARC & Sub install on custom tile fireplace.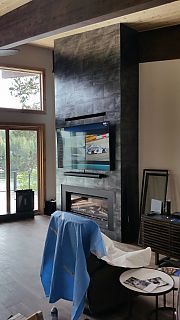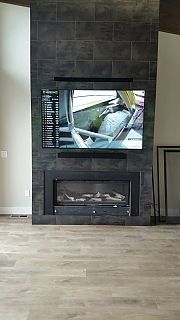 Before After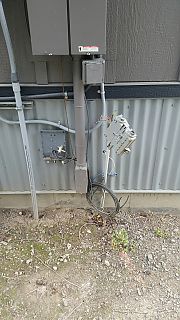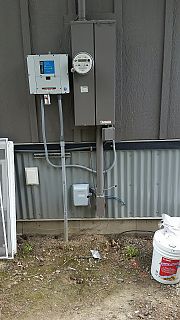 JULY 8, 2020 OLED panel replacement for LG Warranty repair, "Hey Dan, Best in home service experience since we moved here! Thanks for the good work. Stay safe and healthy." Rick Buus, Coeur d'Alene, ID since 2011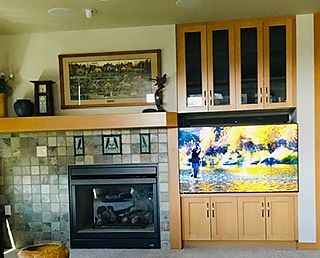 SPRING 2020 SEASONS Townhome Upgrade with Samsung 'The Frame' on new rockwork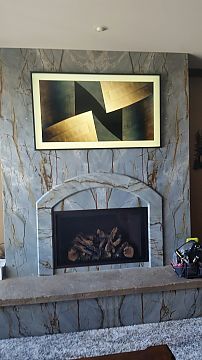 VIDEO UPGRADES at Seasons - THE FRAME & High Speed Internet - TING entered the scene locally with 100MB internet service. A couple clients at Seasons, Sandpoint upgraded their 3 year old Smart TV's. SAMSUNG THE FRAME allows for custom selection of downloadable artwork. When not viewing TV or Smart Apps, the TV appears to be a piece of Art.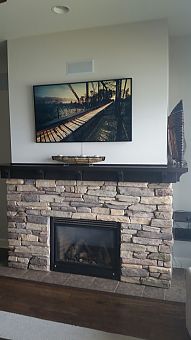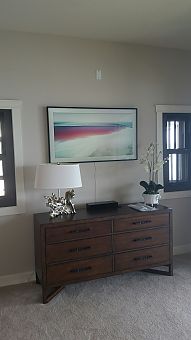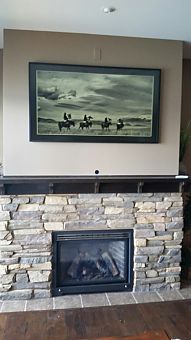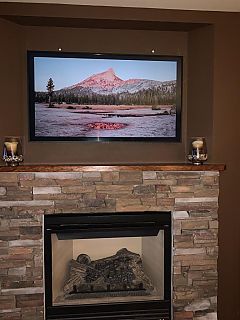 Late Summer 2018 - SE Bonner County, 7.2 Channel Denon AVR In-Ceiling Surround, 2 subwoofers in Fireplace Hearth, Featuring a Samsung 65" 'The Frame' TV. The artwork is downloaded to TV, when TV is turned off, artwork is displayed (motion sensed in room). Below features Finish & In-Construction phases.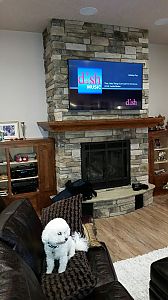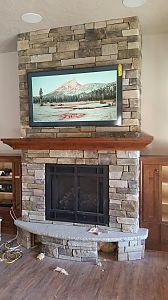 Late Summer 2018 - Sandpoint, ID Visitor's Center, on behalf of the Idaho Club, installed a 50" Samsung Smart TV to utilize a USB Drive featuring video tape loop of Idaho Club Golf Course & properties.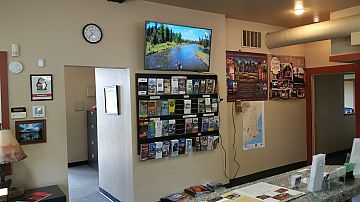 March 2018 - Holiday Shores Condo upgrade, originally built in 2000, the above fireplace space was always designed for first generation rear projection TV's that could accommodate a 48" diagonal Mitsubishi or Toshiba. The closet around the entry side was 19" wide, barely accommodating audio & video support, not much cooling, very little room left for coat closet tasks. I added an articulating, cantilever mount with 28" extension, 55" Samsung 4K QLED that optimally filled available space, a low profile Marantz AVR, Dish DVR, subwoofer in back of the TV cavity and a 55" active Episode 3 Channel SoundBar affixed to top of television, surrounds in back are Polk's that feature 3 different ways of mounting, vertical, horizontal or corner. 5.1 Channel system.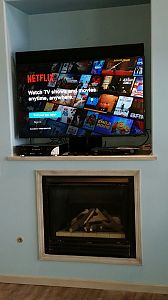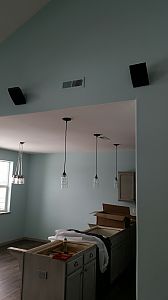 NOVEMBER 2017 - Client purchased a home on Golf Course in Post Falls, 2 prior owners, guess original construction 2005? Most recent owner retrofitted fireplace insert and custom covey hole to accommodate a 65" LG flat panel TV and soundbar. House originally pre-wired for 4 channel in-wall and in-ceiling speakers. Tough retrofit cables to accommodate cable, satellite AVR applications in restricted fireplace insert. Opted for Smart TV with Networking Apps and a Denon Heos Soundbar/Sub combo (with original hardware and finished framing). Heos Soundbar sits directly below TV (wide black rectangle appears exact width of lower cutout, with Cable Box sitting below that, subwoofer in lower left hand corner on floor next to fireplace. AFTER / BEFORE. Client supplied 65" TV, original mount, Denon Heos Soundbar/Sub combo ($800) and installation total $1040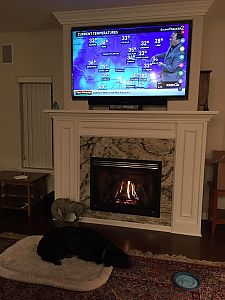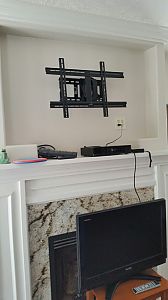 OCTOBER 2017 - 60" LED TV & Soundbar, client purchased home on Twin Lakes Golf Course, original mount was for an older plasma monitor with component video & analog audio. Very heavy duty articulating cantilever mount. Original cabling pre-dated HDMI (2006), having to retrofit HDMI cables through back of fireplace insert to Sat Box & Blu-Ray (HDMI Switch). Installed Soundbar/Sub as well, $300 installation with HDMI retrofit.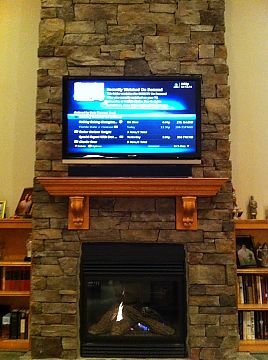 OCTOBER 2017 - installation, WesternstatesCAT, Hayden, ID supplied a 65" LG 4K TV with wireless networking for in-store advertising display. using the Wireless Network www. application. Articulating, cantilever mount and steel stud wall construction. 33.6" TV height accommodated withing 34 3/4" total space. $250 installation cost, $20 for custom installation hardware, Total $270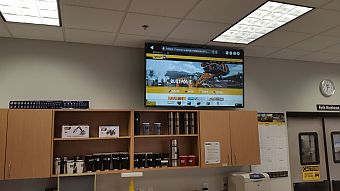 Client had a Sony 4K, Klipsch Soundbar, Blu-Ray, Dish Sat, Apple TV Box and wireless sub. Since it was in hallway, recommended a low profile mount and small, flexible HDMI cables 4K, high speed rated. Total for low profile mount, recesssed AC box for TV and soundbar, HDMI cables, install, programming TV smart apps and customer tutorial $730.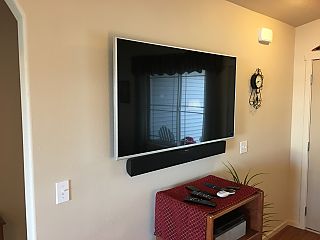 Client moved up from Tucson to Hauser with $45,000 worth of 8 year old, high end, A/V gear. Wants to use all of it. Started with 50 Panasonic Plasma, on 24" extended articulating, cantilever mount, Definitive Technology Mythos 6 with custom made, side wall brackets, fabricated a center channel mount from same. Allowed for 1/2" od clearance in alcove next to Fireplace Insert, Denon AVR, Blu-Ray, Roku, Def Tech Sub, etc. All this so the speakers and video display were flush with front of adjoining walls. Retrofit Sonance VP62SUR/SST for rear In-Ceiling surrounds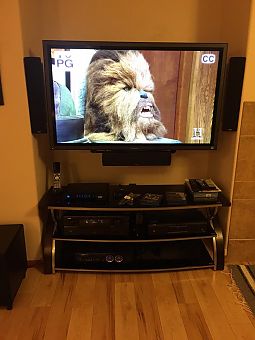 Same client wanted a 5.1 retrofit downstairs with existing components, Toshiba LED, Yamaha AVR, Denon DVD, Direct TV, Def Tech Mythos 6 and Sub, Sonance VP62SUR/SST In-Ceiling Surrounds. Dealing with a stairwell behind TV, several blocks in pathway created a labor intensive retrofit of power, speaker cables, HDMI cables, digital fiber optic, and overhead rear surround speakers. Eventual success!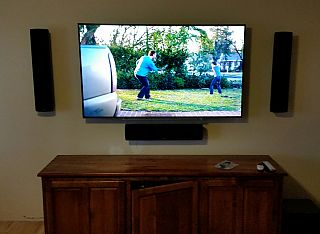 New client moved up from Texas and brought LG TV's with them. used a single arm articulating, cantilever mount, extension 31" with Current Audio Soundbar & Wireless Sub. The Tv can be pulled out and rotated virtually anywhere in room for optimum viewing. Soundbar mounted to bottom of TV. All power, sat cable, HDMI's concealed in wall.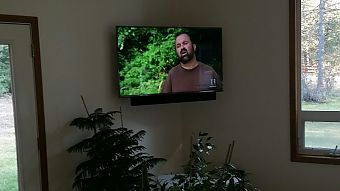 Below, 55" LG on Dual Arm, Articulating Cantilever Mount with 24" Extension, 2 HDMI Cable, 16" Wide Motorola Time Warner Cable Box, Surge Protector & Blu-Ray. Mount, Hardware, HDMI Cable, Surge Protector & Install Materials including 90 degree F-Connectors and coaxial cable routing and labor $695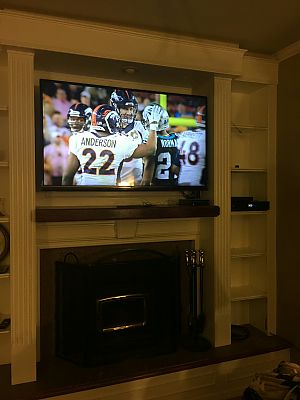 Recently, one of the more challenging CCTV Surveillance installations, required a 20 mile Rural Broadband Network Signal from Schweitzer Mountain, across Lake Pend Oreille to the Hope Peninsula. Not much of a task, however there is a Boat House involved with a wireless point to point transceiver antenna, as well as another signal beamed from the 'Host' (a Casita high enough to avoid Lake reflections), beaming a network signal to the Main Residence on the Lake.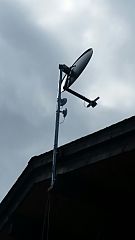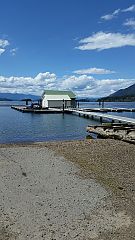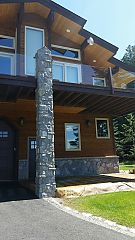 Above antenna receiving signal from Schweitzer Mountain for Internet, other 2 each smaller transceivers synced with Boathouse Camera and also supplies Internet to Main Residence across street at Lake Level. All of this is remote monitored and supports PC or Smart Phone Apps. THE PTZ camera features auto Smart Tracking with 390' of IR (night view) FYI, cost $6500 with 8 Channel NVR, room for future upgrades.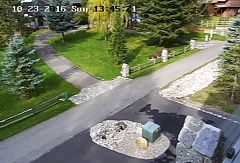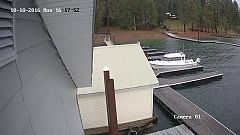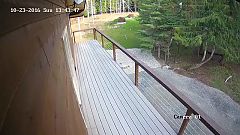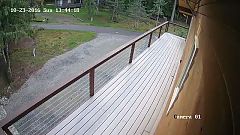 Most recent upgrade, replaced a 10 year old outdated Elan 6 Zone, 6 Source system with a RUSSOUND MCA-66. 6 Zone, 6 Source system, can be used with or without keypads. Awesome Smart Apps for iOS & Android Tablet or Smart Phone, and easy change over.
More Smart App Multi-Zone Applications. Sometimes a control cable just isn't installed and you want to see meta data or use Smart Apps on Phone or Tablet?
Client inquired about an audio upgrade. Electrical contractor ran 4 zones of speaker cable in a remodel, no control cables, no volume control location. Head end was place in absolute worse case scenario, in kitchen above refrigerator. You want to adjust your outside or Great Room speakers with a volume control speaker selector above fridge? I suggested a Heos Drive that all 4 rooms can select source, and separate volume control through network based application.One simple component is controlling multiple audio applications, iTunes content and a multitude of options. This was kitchen, Great Room, Patio, Office & Dining Room audio upgrade.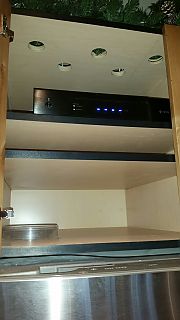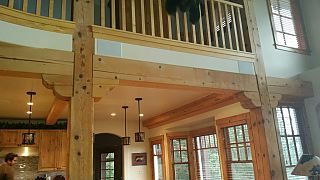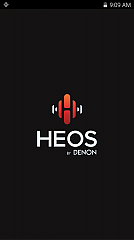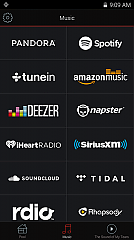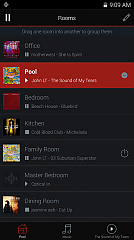 Audio Plus (Dan Christians) has been serving northern Idaho for the last 14 years with 29 years custom audio, video, home theater, home automation, networking, lighting control, video surveillance experience. Having worked for, representing, consulted with dozens of industry leading manufacturers (i.e. Fosgate Audionics, Runco, Stewart Filmscreen, JBL Synthesis, Triad Speakers, B&K Components, Snell Acoustics, Russound, SpeakerCraft, JM Lab, Sonance) also developed 12 day course for low voltage installation course curriculum and served as instructor for trade schools in Tempe, AZ and Toronto, CAN.
We specialize in installation and design of new and existing systems featuring HDTV, surround sound applications including wired and wireless surround, wired and wireless interactive TV and Blu-Ray applications, wired and wireless networking, In-Wall and Stand alone iPod integration, wired and wireless distributed whole house audio, CCTV Surveillance systems, and new technologies distributed over existing home Power Grids.
Also alligned with several notable service providers, in addition to Service Power, Service Magic, Install It Today, Zip Express, Nexicore AVNet Services, National Service Alliance. We provide both residential and commercial upgrades. Most recent notable, 110ea LG HDTV IR sensor boards for Holiday Inn Express, Ponderay, ID and a 176 ea LG TV Video Board upgrade on the Hilton Doubletree Hotel, Missoula, MT to accomodate a new Pay Per View system. Recently retained by AIG & Square Trade Extended Warranty Repair Services.
Give me a call today! Free consultation available!
Affiliation : THX, ISF, HAA, Lutron, OnQ
CCTV Surveillance Installs, remote PC or Smart Phone monitored.
For second Home Owners wanting to keep an eye on their properties from remote locations . . . .
Most recent client comment on a CCTV Surveillance Installation, local 2nd Home Owner that can monitor with Android Application from Vancouver, BC
'All is working well and have had no problems at all. The app for looking at cameras from Vancouver is working well. Hope you have had a good summer and we can put an end to the heat and fires this weekend!'
Ian B, Hope, Idaho 2nd Home Owner, primary residence in Vancouver, BC . . . scroll down to * to see system * Aug. 27 '2015
Service Provider Affiliation: Nexicore/AVNet Services, AIG, Service Power, Square Trade, Home Advisor, Service Live, Work Force, Field Solutions, National Service Alliance'
Comments: " Daniel diagnosed the issue right off the bat and ordered the correct part. We love our plasma TV that is not even 3 years old and were frustrated to learn that Plasma TV's have been discontinued from production, but he had ours back up and working within a week. Great service and we highly recommend him for all your TV/Audio needs"
John W - Sandpoint - 10/27/2015
"Always a pleasure working with Dan.
His attention to detail and cognizance of customer satisfaction contributes to the successful completion of challenging projects." Top Qualities: Expert, Good Value, On Time
Marcel C - 2013
My Son, CR (Charles Robert) has assisted on 50% of my installations for the past 8 years . At 26 years, if he's not at NIC, working on Schweitzer, Fire Fighting for Idaho Department of Lands, bow hunting for Elk, rifle hunting for white tail, fishing, shed hunting, etc. he's working with me.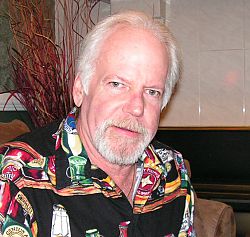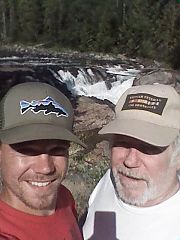 South end of Warren Island on Lake Pend Oreille, no cell phone or internet service. Wilson (now WEBOOST) Certified Cell Phone Booster Installer, took a signal that barely received 1 bar of 1G cell signal on dock way down below. Client now gets 3 - 4 Bars of 3G inside. Wilson Pro 70 is compatible with all cell phone carriers in N. America. You can plan on coverage of appx 4,000 sq ft per indoor antenna (upper right in center picture.)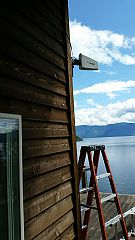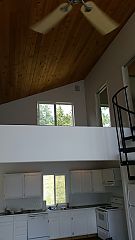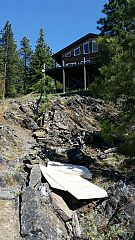 Obviously, not all installations are spontaneous, both of the following were designed in pre-construction phase. The one on the left is a 65" UltraHD LG with dual arm, articulating Sanus mount concealing the cutout accommodating a Marantz low profile NR1605 dual zone AVR, 5.1 in-ceiling audio apeakers and media storage. The one on the right was specially designed rock work, recessed 4 1/2 inches to accommodate a 65" Samsung UltraHD 1 5/8" flat panel and Peerless low profile mount. Finish result is 1 1/2" recessed from rock face.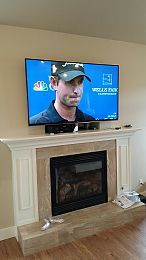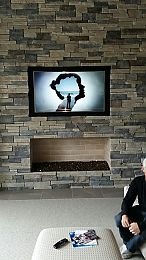 Below is the most recent 4 Camera Network Viewable CCTV Surveillance system *. This vacation home is in Hope, the owner's primary residence is in British Columbia. He can view real time on PC, Apple or Android Smart Phone. Please note that a robust Network, i.e. Broadband is recommended. The last of the 4 camera's feature Pan, Tilt, and 12X Zoom that can be controlled remotely. Cost of 4 camera system with 1TB hard drive storage, and DVR appx. $2995
*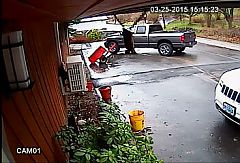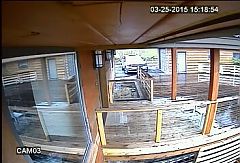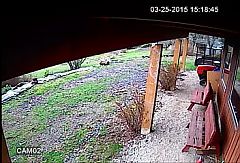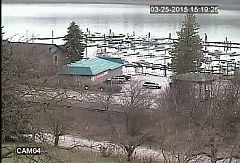 An emphasis on Low Profile & Smart TV Applications, do you walk down an interior hallway and see an ugly wall mount with a mass of cables exposed behind your wall mounted TV? Below is a recently installed Samsung 60" Smart TV, and a Peerless Low Profile Mount with a Bose Soundbar system in Coeur d'Alene.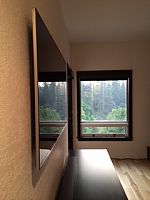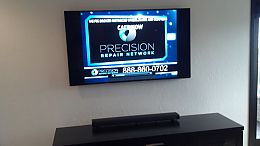 DON'T DIY ! WARNING - Below is a Home Advisor referral and a good reason for a consultation prior to purchasing new equipment. The older 48" was upgraded to a 75" utilizing a articulating, cantilever mount and Bose Soundbar. This customer purchased everything themselves. It works, but there is a reason why I provide FREE CONSULTATION services. Obviously, they would have been well advised to step down to a 70" or 65"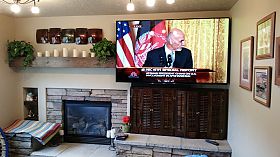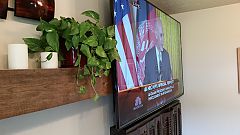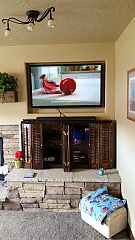 Priest Lake Installation and upgrade, a new 48" Samsung LED fit perfectly within the confines of an older 42" Plasma.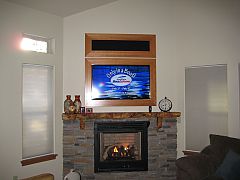 RECENT MOST CREATIVE AUDIOPHILE RETROFIT CHALLENGE! Recently a high end custom integrator from the Portland Market was searching for a custom guy in my local market to install provided gear for his In-Law's newly purchased retirement home. They have a Panasonic TH60PF30U (108lb monster monitor), mounted above the fireplace with a Chief Dual Articulating TS525T (thin series) mount, a Marantz SR5008 used solely for Preamp digital audio & video switching to a Parasound Halo 2 Channel amp feeding a pair of Aerial Acoustics Model 6 speakers. An Oppo 103 Bluray hardwired to a router for network apps and Audio Quest Audio, Video, HDMI & Speaker Cables. All protected by a APC H15 power protection unit. Did I mention Retrofit? A fun project because in North Idaho we normally don't have the Audiophile Client base to work with!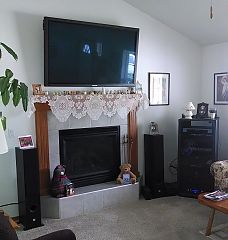 Older 4 channel CCTV Surveillance System successfully Networked, client can view from S. Cal. I have several New 4, 8, 16 Channel DVR's available with minimal setup required utilizing CLOUD technology, Plug & Play, 'NO PORT FORWARDING!'. Optional DIY systems available with 500G, 1TB or 2TB hard drive storage available with 700 TVL bullet or dome cameras. An example of remote networking PAN, TILT, ZOOM Features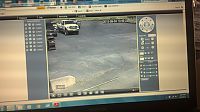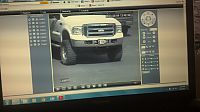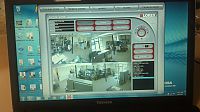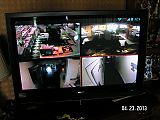 First pic is remote network viewing on PC, the next 2 of these are smart phone remote applications with HDMI cable connected to TV input. The 1 pic has color saturation and contrast adjusted for higher resolution for web site. The latter is actual smart phone app used for the previous 2 pics.
Below Seasons Townhome, no conduit in place, all HD & Digital cables retrofitted. Client wanted a small efficient SoundBar (with wireless subwoofer) to enhance the audio on their new Samsung TV with built in wifi. The HF-W550 worked so well with a single HDMI cable and a fiber optic digital fed back to the wireless subwoofer. It enhances the audio, provides video switching for 2ea HDMI sources and also supports Smart Network Apps Dolby Digital featured on the TV.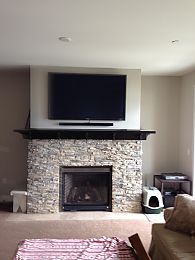 New rush job, client moved from Anchorage to new home in Hayden Lake. Met on Saturday, installed on Tuesday and ready for Thanksgiving! New 5.1 Polk system with powered subwoofer and low-profile Marantz NR1403 Receiver. Total with Installation $1600 and it sounds amazing!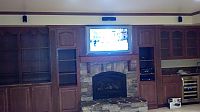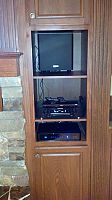 Recent articulating, cantilever mount installations.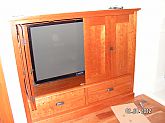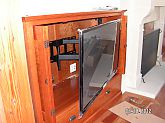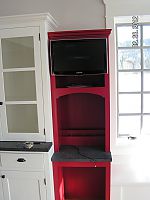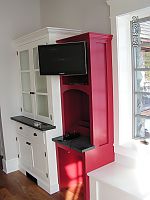 A popular dining and drinking establishment in Sandpoint, newly installed 5 Camera CCTV 650 TV Line Hi-Resolution Surveillance system that can be upgraded to 8 or 16 cameras. This can be monitored from a remote monitored computer, 3G, 4G, Android Phone or Smart Tablet. Views front & rear entries, walk-ins, bar stations. Actual live view from laptop.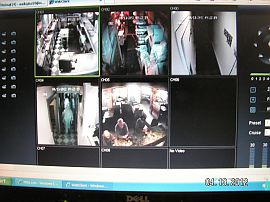 Yes, even small commercial jobs, the following is the Dirne Community Health Center, Coeur d'Alene, ID. They asked if I could hang 2ea 60" Panasonic Plasma HDTV's (almost 100 lbs) from their brick columns. Using heavy duty articulating, cantilever, mounts with long extensions, I reinforced a 3/4" plywood template and sandwiched between mount and brick. These are suspended 6' above the floor. The TV's receive a wirelsss video signal, the AC power supply is a secret!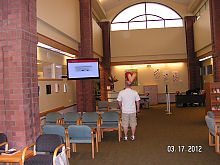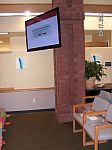 Client (Dr Chun), called back 1 1/2 years after first job. Purchased a new Sharp 70" and was curious if it could be mounted where his old 42" plasma was located. Mounted the 70" diagonal on an articulating mount. Fits perfect above the mantel and upper cornice. Retrofitted a new slimline Definitive Technology 3 channel soundbar above cornice. All components hidden away and controlled by new Pro Control IR remote and RF processor. There is an XBox 360 with Kinect in lower cabinet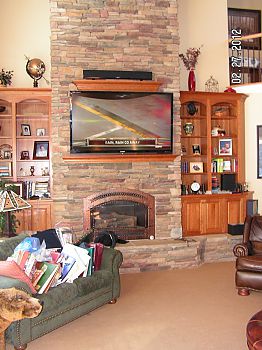 Look closely, you will see 4 ea CCTV surveillance cameras retrofitted in this Victorian 'Turn of the Century' home. Camera installation utilized attic crawl space and can be viewed on TV, PC or Smart Phone apps. All 4 sides of residence is covered, even includes a pan-tilt-zoom camera above window alcove.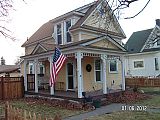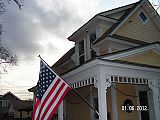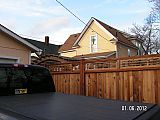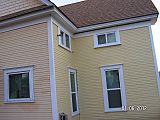 With obvious physical cabinetry restraints, the new Marantz NR 1602 7.1 (2 Zone) slimline receiver 4.1" high, matching Marantz CD Changer, and the Definitive Technolgy, only 5 channel 'forward firing' surround bar that fits within 41 3/4" width, sub and outside Zone 2 application. This client's focus is 'Audio Quality', not TV! Outside a Sonance Mariner Single Stereo speaker.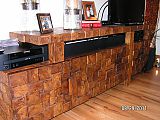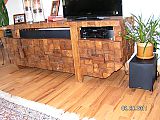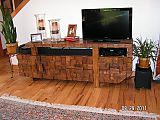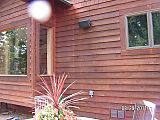 Just completing a Seasons at Sandpoint, ID 3 story Townhome. Note in-ceiling speakers aesthetically placed to benefit from room boundaries and lower the imaging in proportion to the 50" & 60" Panasonic Plasma TV's. This features 11 zones of Compoint Intercom stations, 8 zones Russound A-Bus 6 source audio distribution, 8 ea Panasonic plasma TV's, 7.1 Home Theater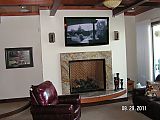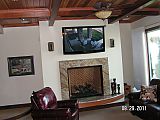 Front Door, and rear hot tub CCTV modulated on Cable TV Channels 106 & 108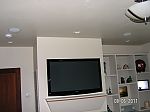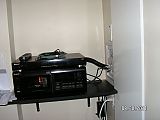 Master Bedroom In-Ceiling Speaker, Network Enclosure & Equipment room support 11 zones intercom, 8 zones of audio with 6ea audio sources, 2 Zones audio supplied from Theater Room, CD Player, Ipod Dock, 1 x 12 Telephone, Cable TV, Direct TV, Networking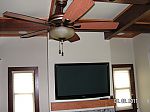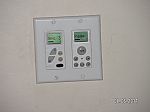 Library In-Ceiling Placement, Russound A-Bus with Compoint Intercom keypads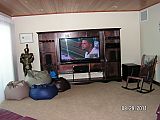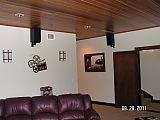 65" Panasonic, Denon AVR 3310ci, 7.1 speakers, client purchased I installed, cabinetry not finished
Couple of recent jobs, Hope Hotel, Hope, ID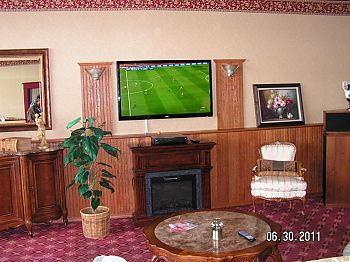 55" LG LED in Hope Hotel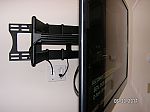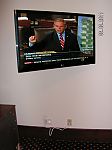 Articulating Cantilever w/ 30"extension, was able to compete with Best Buy, Sears, Walmart, Amazon.com LG TV pricing by 15% less. Same articulating cantilever in Guest suite, rotates 180 degrees with concealed AC & cables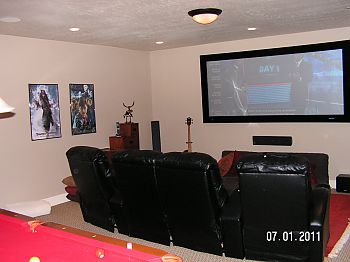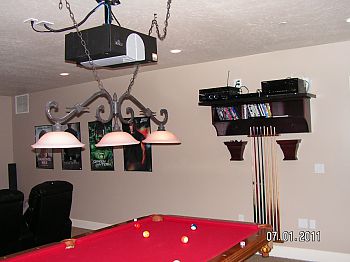 Seasons at Sandpoint Townhome Media Room, Runco projector moved to accomodate pool table and custom placed component rack. Features a Stewart 2:35 aspect ratio Cinecurve filmscreen!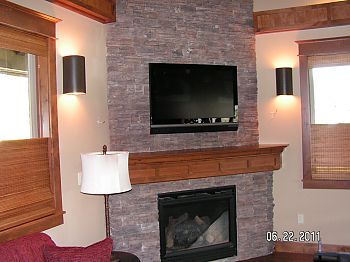 Rush job for a client whose new Dover Bay home buyers will be in town in 4 days. HDTV distributed HDMI Cat5e baluns and concealed IR control Direct TV in equipment closet.
What Our Customers Are Saying...
"Dan did a total retrofit of what was in the town home at the 'White Box' stage. We used none of the audio wiring that was done at the earlier construction. Dan also set our eight TV's along with our total house intercom/sound system with speakers in all six bedrooms, the library, the living room, and the theater room. He set our outside security cameras and our Direct TV Satellite system coordinated with the Northland cable system. He has also come back later to trouble shoot various systems along with adding a Sirius Satellite system. Of course we are also setup with Internet, but that is pretty much Northland Wireless. We do recommend Dan for audio/visual work" - Eric R. & Lois H.in Sandpoint, ID 7/23/2013

"Was one third the price of other companies that bid for the job of pre-wiring new construction house for TV, stereo speakers, and internet service. Installed extra cables for future expansion at no additional cost. Received more than what was bid on the job" - Terry W in Coeur d'Alene, ID 9/05/2012

"Dan Christians provided and installed sound systems in both my daughter's condominium in downtown Sandpoint and in our home near Sandpoint. While we are not very knowledgeable about the technology, systems, and products available today, we did have pretty definite ideas about desired sound quality, functionality, and aesthetics. Dan listened carefully, researched available products, and put together systems that matched and exceeded our requirements. Installation was also done quite professionally. All of this was done expeditiously and at very reasonable prices. For people like us in North Idaho, Dan is your man."- C. H. Sandpoint, ID

"Excellent service, I would highly recommend! Fast, efficient, far exceeded my expectations. Thank You! "
- RY, Sandpoint, ID

"Dan stepped up to inherit a job with the wiring and set up of the Man Room home theater which was sabotaged due to my ignorance and a lazy electrician when I built my home. That said Mr. Christians embraced this job like a professional . Before he was on the job he communicated at least a dozen times to optimize the strategies success with all of the new components.He was challenged buy multiple problems with regards to the wiring configuration and a conduit which was slightly thicker than a straw. When confronted with a new universal remote control he stepped back then returned to conquer a few days after his first service call. No up sell, professional at all times. I trusted him with this job and he got my project into the end zone. Thank you Audio Plus!!" - Dr Eric Chun, Coeur d'Alene, ID

"Very pleased with Dans work. Obviously he knows what the consumer needs to fit there audio and visual needs. Would recommend him for all your entertanment needs." - MJ, Sandpoint, ID

"Dan provided final terminations on a house structured-wiring installation with Cat. 5e twisted pair and RG 6 coaxial cable. Everything worked fine with the exception of one bad RJ 11 telephone jack which Dan promptly diagnosed and replaced. Nice job!"
- JK, Sandpoint, ID

"Dan did a wonderful job on a complex home theater installation for me! He provided expert installation and system calibration along with product recommendations. Dan is very honest and dependable, my wife and I couldn't be happier with our new system!" - CR, Kootenai, ID

"Dan gave me valuable information about the types and models of equipment to properly fit a superb installation of wireless and blueray LED TV, and surround sound into my living area. I was able to buy equipment that was sized and installed properly. He did the installation efficiently, in a short time. His on scene, and after work folllow-up was excellent." - JS, Sandpoint, ID

Most recent rennovation and A/V upgrade is the above Seasons at Sandpoint Townhome. Integrated 11 zones of Intercom, 8 zones of audio distribution, CCTV surveillance at front door entry and beach level hot tub area, networked phone and data communications in all areas. Also features 8ea HDTV's and a 7.1 channel surround system in Game Room.

Samsung LED, Canton LCR SoundBar, 2ea Episode Subwoofers, HDMI via CAT5e

All equipment replaced in original cabinetry designed for rear projection TV. Samsung 50" Plasma TV fitted with articulating, cantilever mount allows for 1/8" clearance on pocket doors. Denon AVR3310ci, Denon Blu-Ray, APC Power Conditioning, iPod Dock, Atlantic Technologies THX Select 7.1 Speaker/Sub Package

Samsung 55" LED 3-D TV upgrade from old 35" location, 3-D Blu-Ray, Re-position and calibrated existing 5.1 surround system

Samsung 46" LED with New 'Low Profile' Marantz NR1401 7.1 AVR (only 4" high), a wireless networked Samsung Blu-Ray, & Mirage Nanosat 5.1 Speaker Package. Due to high speaker placement, the Nanosat's palm sized 'Omnipolar' 360 degree soundfield, installed upside down for enhanced imaging (note center channel in front of TV). Also features a seemless 75W powered subwoofer to right of cabinet. This system 'Kick's A__' over aesthetically similar, and inferior performing Bose applications!

Local competition's atypical networking enclosure pre-wire mess (before) and (after) cleanup

This Di-Pole/Bi-Pole Atlantic Technology surround speaker fit perfectly with a custom made speaker mount. Thermostat had to be repostioned to establish optimal speaker height of the 4 ea surround speakers

Tight quarters, but everything was designed to fit perfectly! Older A/V Cabinet remodeled to accomodate a new Samsung 46" LED HDTV, with articulating, cantilever mount. TV extends 25" out so it will swivel towards dining area. Polk 5 channel surround bar sets below TV, subwoofer and surge protection concealed in extra space behind TV. New Marantz, low profile A/V Receiver, Denon CD player, and Samsung blu-ray player. Credits - Original cabinetry and remodel, Misty Mountain Furniture, Sandpoint, ID

Below is a 'before' picture of the above cabinetry rennovation, remodel took less than 1 week.

Holiday Inn Express, Ponderay, ID 110 ea LG HDTV IR sensor upgrade.

Hilton DoubleTree, Missoula, MT 176 ea LG video board upgrade